【DE10-Pro】TERASIC友晶科技DE10-Pro
产品型号:

DE10-Pro

产品品牌:

TERASIC友晶科技/Intel FPGA

产品规格:

Intel Stratix 10 GX/SX FPGA

产品价格:
Terasic DE10-Pro Stratix 10 GX FPGA Development Kit provides the ideal hardware solution for designs that demand high capacity and bandwidth memory interfacing, ultra-low latency communication, and power efficiency. With a full-height, 3/4-length form-factor package, the DE10-Pro is designed for the most demanding high-end applications, empowered with the top-of-the-line Intel Stratix 10 GX, delivering the best system-level integration and flexibility in the industry.
The Stratix 10 GX FPGA features integrated transceivers that transfer at a maximum of 28 Gbps, allowing the DE10-Pro to be fully compliant with version 3.0 of the PCI Express standard, as well as allowing an ultra low-latency, straight connections to four external 100G QSFP28 modules. Not relying on an external PHY will accelerate mainstream development of network applications enabling customers to deploy designs for a broad range of high-speed connectivity applications. For designs that demand high capacity and high speed for memory and storage, the DE10-Pro delivers with four independent banks of DDR4 SO-DIMM RAM modules that (can be paired with Terasic's QDR-II+ or QDR-IV Modules ) and high-speed parallel flash memory. The feature-set of the DE10-Pro fully supports all high-intensity applications such as low-latency trading, cloud computing, high-performance computing, data acquisition, network processing, and signal processing.
FPGA
Intel Stratix 10 GX/SX FPGA
FPGA Configuration
On-Board USB Blaster II or JTAG header for FPGA programming
Avalon-ST (AVST x8) configuration via MAX II CPLD and CFI flash memory
Memory
128MB FLASH
4 independent DDR4 SODIMM sockets with ECC, up to 8 GB 1200MHz for each socket. (The sockets can also work with Terasic's QDRII or QDR-IV memory modules.)
Communication and Expansion
Four QSFP28 connectors
PCI Express Gen3 x16 edge connector (includes PCIe drivers)
2x5 Timing expansion header
Others
General user input / output:

4 LEDs
2 push-buttons
2 slide switches
MMCX clock input / output

On-Board Clock

50MHz Oscillator
Programmable Clock Generator

System Monitor and Control

Temperature sensor
Power Monitor
Fan control

Power

PCI Express 2x3 and 2x4 power connectors, 12V DC Input
PCI Express edge connector power

Mechanical Specification

PCI Express standard height and 3/4-length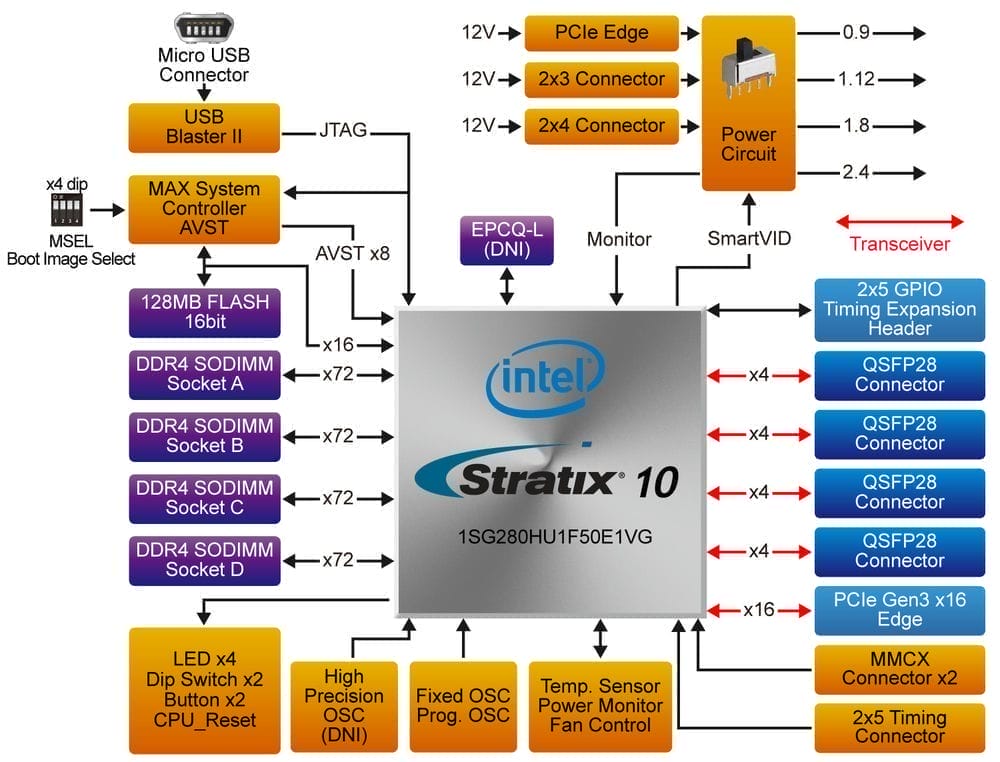 The four DDR4 SODIMM sockets are divided into two groups.

For better user flexibility, two different memory modules can be inserted separately in right & left groups. For example, users can insert two DDR4 modules on the right side and two QDRII+ SRAM modules on the left side.

Limitation: The two SODIMM sockets must be inserted with the same memory to prevent dysfunction on memory module that requires higher voltage.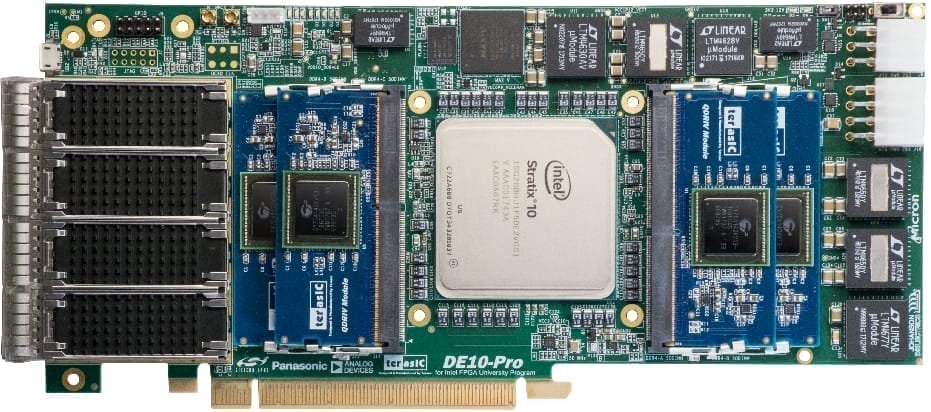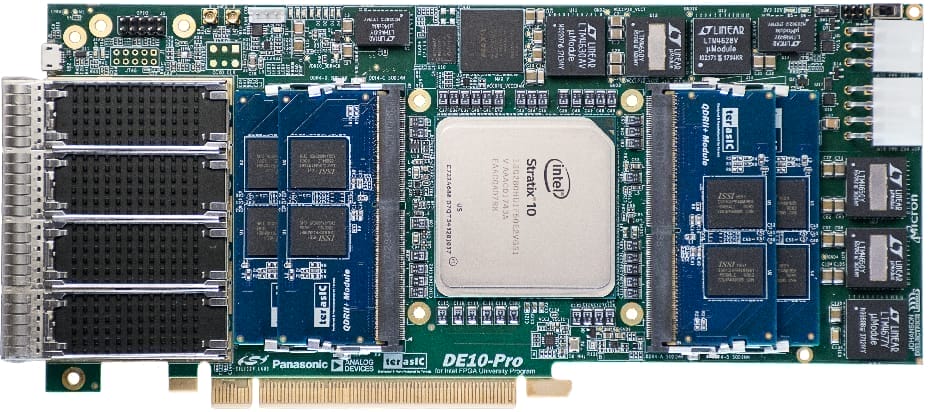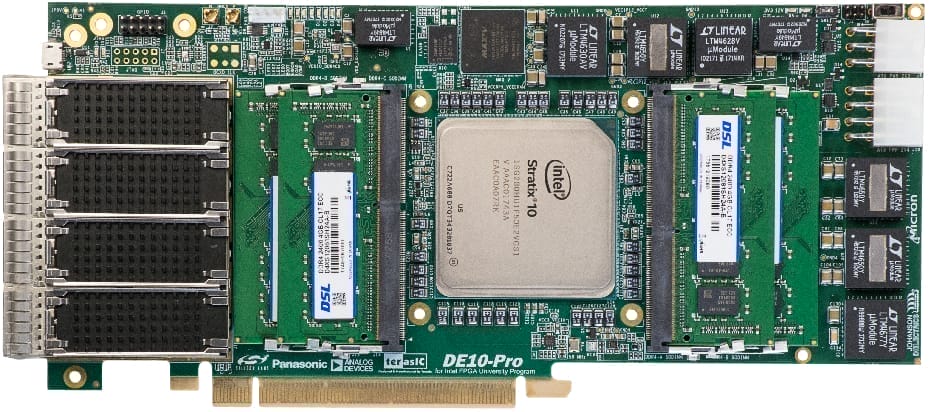 Two DDR4 SODIMM Modules, two QDR-IV Modules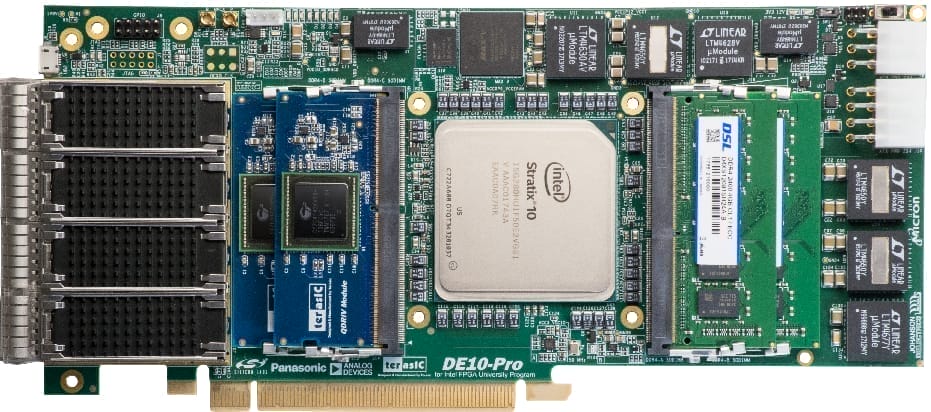 Two DDR4 SODIMM Modules, two QDR-II+ Modules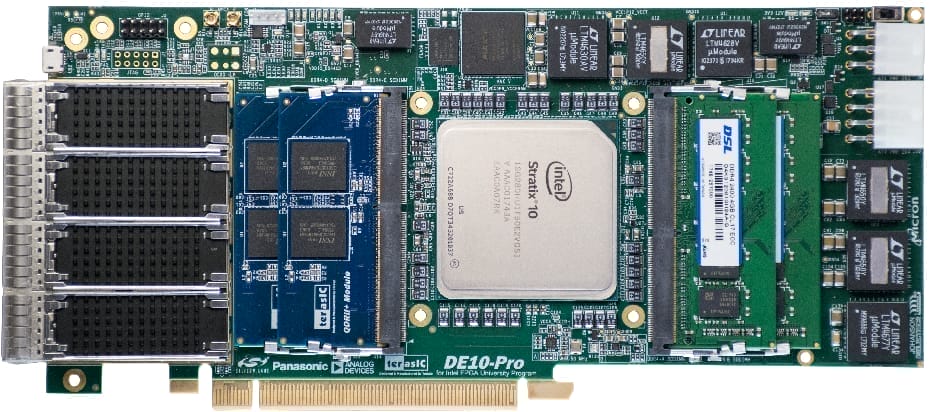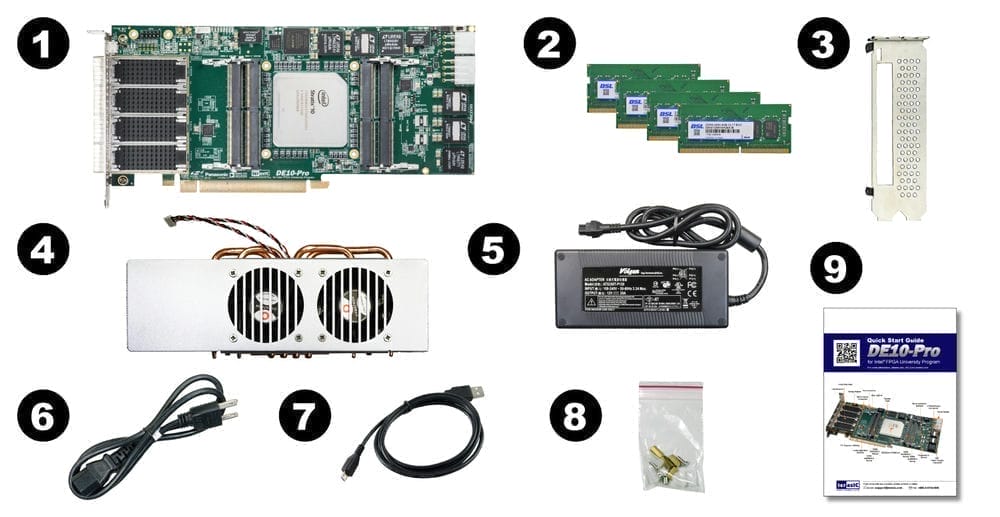 DE10-Pro Development Board
4GB DDR4-2400 ECC SO-DIMM Module x4 (Option)
PCIe Bracket (Installed)
Air Cooler (Installed)
Power Supply (Option) & Power Cable
AC Power Cord
USB to Micro USB Cable
Screw & Copper Pillar Package
DE10-Pro Quick Start Guide
Quartus design software license is not included in this kit.